Puppy Left On A Bench With A Note Learns To Trust Again
January 5, 2023
247

4 minutes read
A family from Spain noticed this sad dog lying on a bench. The animal, chained to the bench with a leash, was looking around with sad eyes. Passersby immediately contacted rescuers. Marcella Goldberg, a local animal rescuer, responded. She wasn't surprised about the dog, because there have been many such cases since the pandemic began.
"There were already several neighbors gathered who had brought him water and food because they left him tied to the bench with nothing," Goldberg told The Dodo. "But they could not get close because the puppy was terrified, growling and snipping."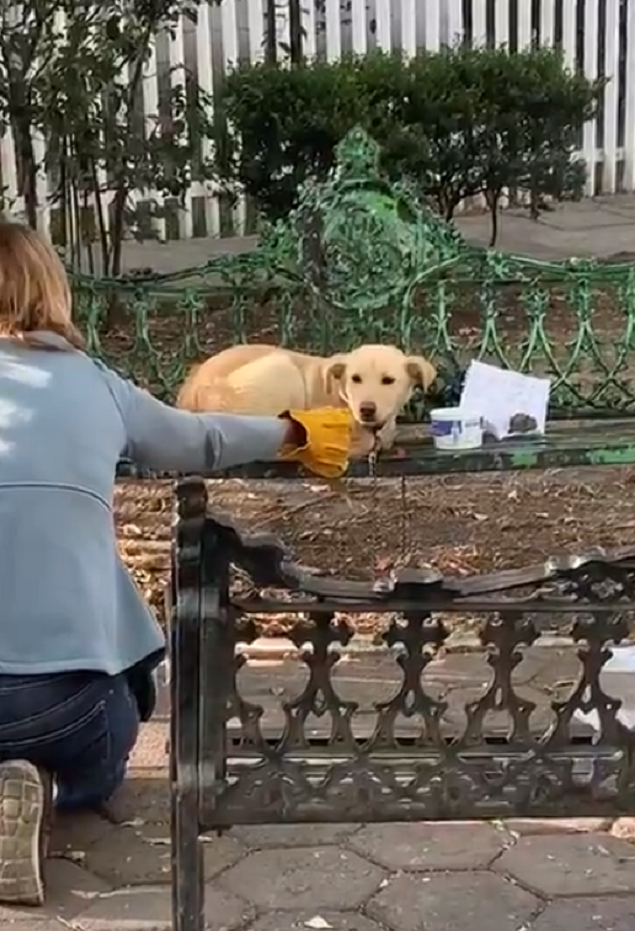 Next to the dog was a note with a rock on it. When people read it, they felt pity for the little guy. It turned out that he had been left here because of the abusive attitude of his owners. That's what was in the note: "Hi, please adopt me: Max. Please, I ask that you adopt this cute dog and you take good care of him. It hurts a lot to leave my dog here but I made the decision of leaving him because my family used to mistreat him and it would always hurt me to see him in that condition. If you're reading this and your heart wavers, please adopt him and take good care of him. If not, please leave this note in its place. That way others can read it and adopt him. Thank you."
Passersby and the rescuer couldn't contain their emotions after reading this. They immediately started to help Max. Even though the dog was growling with fear, Marcela managed to safely unbuckle him and put him in the car.
"I wore protective gloves to be able to approach with more confidence, but it was still difficult," Goldberg said. "We contacted a trainer with experience in aggressive dogs who watched the situation by video call and gave me instructions until we managed to pass the loop [over his head] and cut the other chain."
Once in the car he immediately calmed down and understood that they wanted to help him. He was still a little afraid, but no longer growled. And when Marcella brought him back to her, Max was very grateful for everything.
"He is sweet, very affectionate, he loves to give kisses and play with the ball that the vet gave him," Goldberg said.
It turned out Max was about seven months old. He is an amazing dog – despite what he has been through, he is a kind and very affectionate boy. Everyone just fell in love with him at first sight.
They are now looking for a loving family that would never hurt or betray him. We wish Max to find the best owners as soon as possible!