Little Girl Breaks Down In Tears After Mom Surprises Her With Shelter Dog She Saw Online
September 10, 2022
103

3 minutes read
A 10-year-old girl from the United States named Alexandria had been checking out the pages of animal shelters on social media for months. She really wanted a dog, and one day she came across a photo of this pit bull at the Arizona Humane Society shelter.
"As soon as she saw Wyatt, she started crying and knew that he was instantly the one," Alexandria's mom, Angela, said in a statement. "She said, 'He's the one that's going to take good care of us, Mom! If you go get him, I promise to love him forever and take really good care of him.'"

The girl fell in love with the dog at first sight, and from that day on, she told everyone about him and asked her parents for him.
It turned out his name was Wyatt and he had been brought to the shelter from the street. According to the staff's descriptions, he is a very kind and sweet dog who makes friends with everyone he meets. In response to the girl's entreaties to take the dog, her mother was hesitant at first – she told her daughter to take her time. All the while, Alexandria was checking the shelter page, worried that the doggie would be taken away.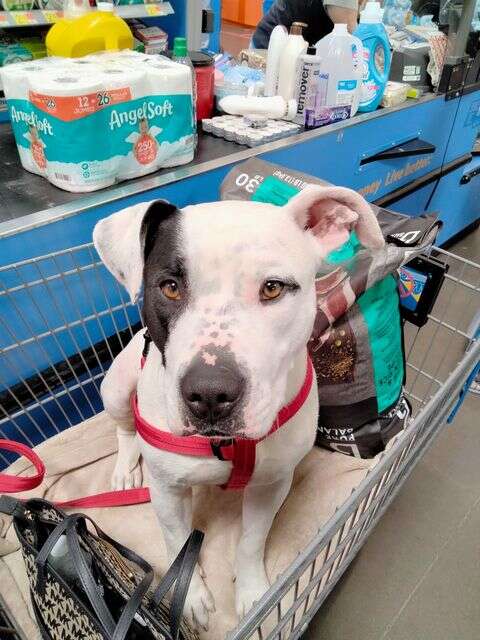 "We collaborate with other shelters — whether they are overrun and have too many pets in their shelter, they have pets who have medical needs and they aren't able to provide their medical care, or a number of other reasons," Kelsey Dickerson, spokesperson for the Arizona Humane Society, told The Dodo. "Through this program, we're able to save more than a thousand dogs, cats and even critters sometimes from other shelters."
A few days later, the girl's mother decided to surprise her. She and her family decided to take the dog, but they did not tell Alexandria about it. When Angela picked up the dog from the shelter, she went with him to her daughter's school. She met her after school and the girl couldn't contain her emotions when she saw the dog!

The girl immediately cried and went over to Wyatt, who was very happy to see her. From that day on, the two were inseparable.
"We take him everywhere we go — to the grocery store, hiking, swimming and many walks throughout the day," Angela said. "This sweet, loving boy is fully housebroken and knows many tricks. He is so very eager to please and is such a great cuddler."