Kitten with Fuzzy Hair and Unbridled Energy Thrives With Help of Other Cats, and Finds Family of Her Dreams
November 29, 2022
61

5 minutes read
This little cat was picked up on the streets of San Jose, California. Dirty, shabby, and frightened, she was in need of love and care, and luckily, kind people came across her. They picked her up and rushed her to the local Mini Cat Town shelter.
A volunteer named Laura immediately drew her attention to the shabby kitty. She took the kitty under her care and gave her the nickname Roz. The infant was covered with dust, so she was bathed immediately, after which she transformed. Laura then took the little one home to take care of her.
"She purred loudly the minute she saw me and loved sitting in my lap while I pet her," Laura shared with Love Meow.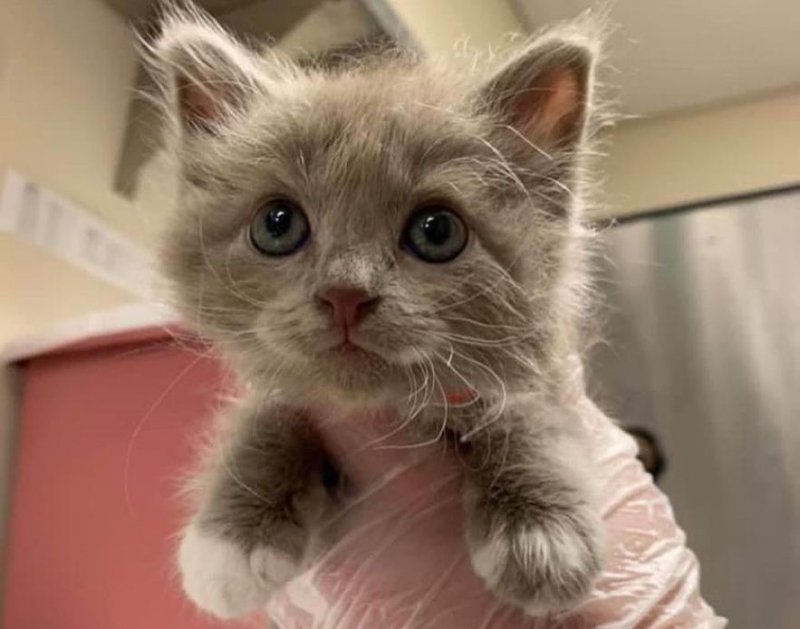 Although Roz had been living alone on the street for some time, she was not afraid of people at all. She happily asked Laura for affection and rubbed herself in her arms to be petted. Since Roz had never lived in a house, she was still a little wild.
The kitty knew no boundaries in playing and would start biting her caretaker and would also run around the house endlessly and would lunge at Laura's leg. After that, the caretaker began to wean the little one off this behavior, and she succeeded.
"Roz is a character. She loves people and is not afraid at all. She ferociously makes biscuits (kneads) as if her life depends on them. She loved to nip playfully and scratch attack. She was a crazy little dynamo. She made little squeaks and chortles as she zig-zagged around her pen," Laura added.
"We did this by making sure she had a lot of toys and stuffed animals to play with. She loved to climb, wrestle her stuffed animals, and run around."
All of Laura's house cats treated Roz gently and patiently, understanding that she was still very young. Mochi, her cat, played a big role in her upbringing. He taught her all the important cat things and made her much calmer and more self-assured.
Thanks to her wise feline mentors, Roz learned how to be a house kitten. She felt boundaries while playing, was much more gentle with her caretaker, and was always eager to spend time with her older congeners, who loved her wholeheartedly.
"They're growing up fast, but it is truly wonderful to watch them grow closer to us and to each other as time goes on."
When they started looking for permanent owners for Roz, her pictures were noticed by a woman who was just looking for a companion for her cat. She immediately fell in love with this lump of energy and took Roz in on the first day she met her.
That's how Roz started a family! She befriended her owner's cat and now they are inseparable. They do everything together-play, eat, sleep, and fool around. Roz is truly happy since she is surrounded by love and care. Blessings to the kind people who rescued her one day!