Kitten Wins the Hearts of Family that Brought Him Back to Life, and Transforms into Gorgeous Cat
November 30, 2022
68

4 minutes read
Four tiny kittens were found on the street when they were only a couple of weeks old. The babies were still very weak and needed help. Kind people picked them up and gave them to the Saving One Life shelter, where they were happily welcomed. One of the babies was clearly different.
"He had an eye infection, and one of his eyes was sealed shut when he first arrived," Caroline told Love Meow.
The red-haired kitten, named Chester, was the frailest, smallest, and weakest of the brothers. The baby was diagnosed with an eye infection that caused his eyes to stick together. While the other kittens were doing well, Chester was fading before his eyes.
The tiny boy couldn't hold his head up, was constantly lethargic, and didn't move much. His foster caregiver, Caroline, decided to take charge of rescue by giving him medications and shots as prescribed by the vet.
"She gave him subcutaneous fluids, B12 injection, glucose and supplemental nutrition that got him awake enough to allow a drop of formula on his tongue. I would then gently stroke his throat to encourage him to swallow."
"When he was sick, I would hold him to my heart and promised him that if he fought and pulled through, he would always stay right here, close to my heart," Caroline said. "I promised to give him the best life and to love and care for him forever. I just needed him to fight to get better."The caregiver fed Chester every 1.5 hours and didn't leave his side to monitor the poor guy's condition.
After a week of intense treatment, Caroline's care and love began to bear fruit. Chester finally perked up and started moving more and gaining weight. It was a miracle!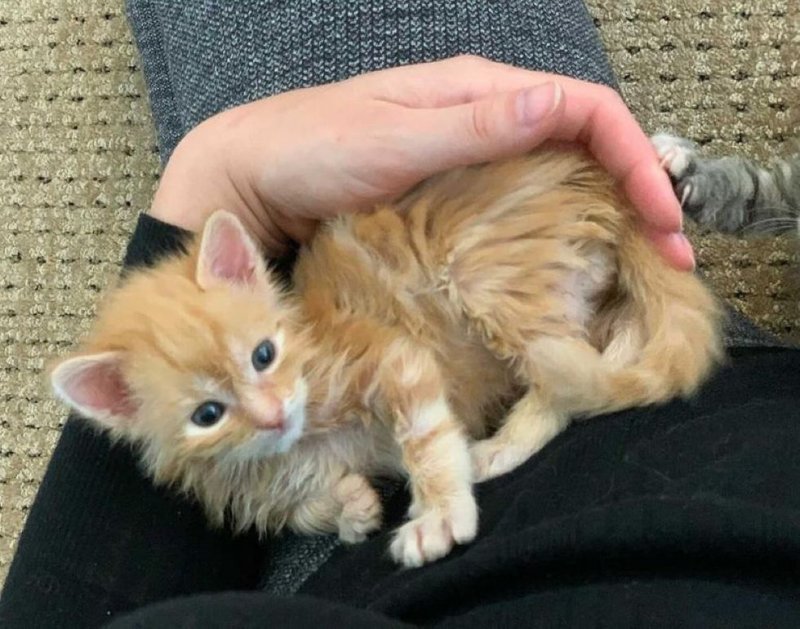 "We called the kitten our 'drunken sailor' because Chester was quite clumsy and uncoordinated and constantly made us laugh with his silly and strange behavior."
As time went on, Chester felt better and better. He was growing up and becoming more active, playful, and affectionate. By then, Caroline and her husband realized that they had become attached to him and would not be able to give this baby to anyone else. They gave the other kittens away and kept Chester with them forever.

Chester soon went from a weak little lump to an active and full-of-life kitten. He was developing quite normally, played and ate a lot, ran around the house, and was very grateful to his owners.
Chester is now 9 months old. He has turned into a gorgeous kitty that is admired by everyone around him. This kitty is truly happy – he is surrounded by the love of his owners, and enjoys life every day.
"Chester sleeps at the foot of our bed, and every morning when he sees us waking up, he comes over and nuzzles our faces and flops back and forth between Matt and I in different snuggling positions."