Japanese Girl has been Doing Tattoos Since She Was 6 years Old and Has Regular Customers
December 11, 2022
146

3 minutes read
What do children usually like to do? Dancing, drawing, rollerblading, collecting cars. But that's not the case for 9-year-old Japanese girl Noko Nishigaki. This child has been learning how to do tattoos for three years, and she even has her own clients.
"I tried it and it was fun!" says Noko, over email. "I was very glad that my parents and friends complimented my work. They said (that) to start tattooing from a young age is unusual, so I thought it was very interesting. That's why I started."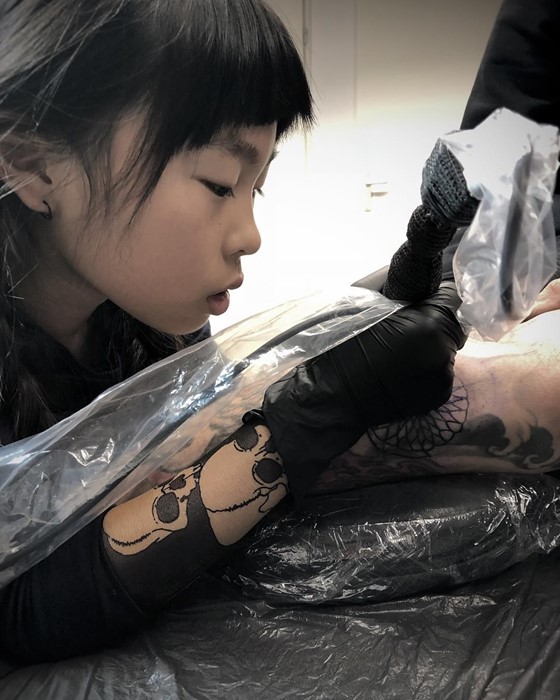 Noko's passion for tattoos didn't come about by accident. Her daddy Gakkin is a famous tattoo artist, and it was from him that she learned how to do it. At first Noko learned only on oranges and silicone pads, but then people started coming to her as well. Though, she hasn't taken money from them yet, because the drawings are far from perfect for now. But visitors like Noko's cute tattoos. Her unique pieces often reference nature, much like her father's.
"Her drawings are so lovely. I really love them," Gakkin explains, every bit the proud dad. "(It was a) big surprise for me that she can do very well at such a young age. Especially (since) drawing and tattooing are totally different things. I'm very proud of her."
"Actually I really don't mind if people see this under a negative light," her father explains. "This is their choice and I have my choice. I don't want to spend my life trying to change the public image of tattoos. I just want to work on people who love my works. So whatever!"
Well, the baby's main client is her daddy. There is almost no room for tattoos on his body anymore, but he still finds free areas of skin for his daughter to sharpen her skill.