Dog Won't Stop Getting Stuck In Mom's Sweaters
November 29, 2022
78

3 minutes read
A seven-year-old dog named Roger lives happily with his owner in the United States. From a very young age, this handsome boy loves everything to do with cuddling, coziness, and warmth. He loves to cuddle with his owners, often asks for affection, and even cuddles with his owners' pet cat.
"He LOVES snuggles," Autumn Nelson, Roger's mom, told The Dodo. "He really enjoys climbing up and putting a paw on each of our shoulders to give what we call 'face hugs.' He loves playing with and snuggling our cats too."
"He did it for the first time a few weeks ago … I had heard him whining upstairs when I called him to go outside and I found him stuck in my sweater," Nelson said. "I of course laughed forever and decided I had to document it before getting him out! He just stared at me and had a mix of embarrassment and shame."
Roger likes to find different cozy and warm places, and he recently discovered a new hobby – sweaters. One day Roger crawled into a sweater his owner accidentally left on the floor and discovered that he could fit through the sleeves and it was wildly entertaining for him!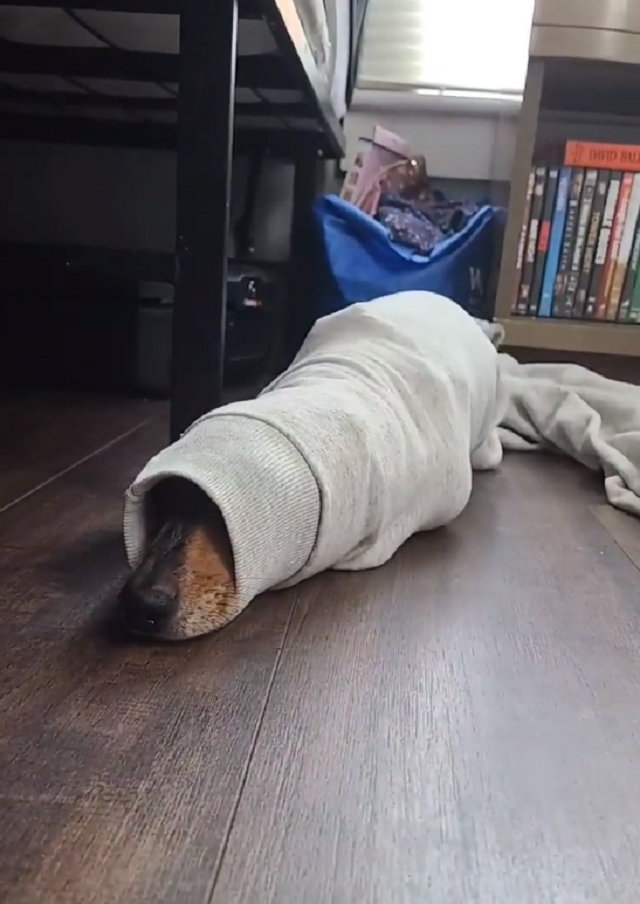 Since then, the dog won't miss a chance to get into the sleeve of any sweater he meets on his way. Meanwhile, the owner takes pictures of this miracle and publishes them online, where the army of Roger's fans laughs at him, along with the owners.
"Every time I have found him it was because he finally decided to get out, but couldn't, so he'd whine," Nelson said. "I'd go in my room to find him in yet again another sweater."