Cat with Airplane Ears Showed Up in Backyard, Now Cares for Every Foster Kitten that Comes Through the Door
November 26, 2022
88

4 minutes read
A resident of Arizona named Jen saw this red-haired cat in her yard. She immediately noticed his unusual ears – it turned out they had been damaged by an ear mite. Although his ears had healed, they remained permanently in this shape.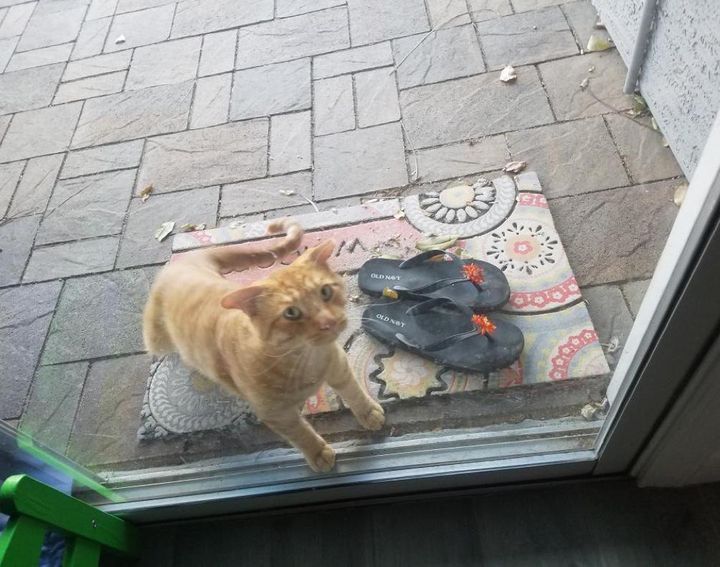 The woman fed him, and every day the kitty looked up and rubbed herself hopefully at her door. Jen volunteered at the local Jin's Bottle Babies shelter and decided to give him to the shelter soon so the kitty could be neutered and vaccinated.
"He wagged his tail more like a dog and his flat ears confused other cats to think that he was angry," Jen told Love Meow.
After all the procedures, Jen took the redhead into a holding facility and gave him a nickname, Romeo. She did not expect how well he would fit into her "cat" family. She had several kittens in her care, and Romeo began to take care of them.
Romeo turned out to be a very gentle, loving nanny for the kittens, and besides, he loved the caretaker. He showed Jen how grateful he was for her rescue and constantly rubbed up against her.
"He is a super loving and cuddly boy. He always wants to be in my lap. He's not shy, and if anyone comes over, he'll climb in their lap for cuddles," Jen shared with Love Meow.
From then on, whenever Jen brought home new kittens for re-homing, Romeo always took them under his wing. He bathed them in love, played with them, babysat them, and helped the caretaker look after them.
If any kitten began to squeak and cry, Romeo would run to it with all his paws to soothe it. He had so much love in his heart that he had enough for all the little ones!
"He definitely teaches them thorough bathing. If they're too rough, he bops them on the head to correct them, always very gently. He makes fostering so much easier," Jen told Love Meow.
"I was pretty surprised by how much he loves the foster kittens. It's the only time he leaves my side. He will go nap in their room and play."
Thanks to Romeo, the kittens quickly became more confident and actively grew up. He taught them all the important cat things – Jen couldn't have dreamed of a better assistant. Without thinking twice, she decided to keep him.
Now Romeo is truly happy. He found his mission in raising kittens and enjoys every day next to his beloved owner. Thank you to the kind woman for rescuing him!
"One of Romeo's most important duties is being a Foster Dad. I like to think we do a pretty good job of raising these orphaned kittens, but some jobs are definitely handled better by a feline parent," Jen said.