Cat Was Supposed To Catch A Mouse Living In The House, But Made Friends With It Instead
September 26, 2022
39

2 minutes read
Simón is a cat from the Chilean town of Punta Arenas who lives with his loving owner, Benjamin Sagredo. Recently he posted a funny video with the pet, where he "befriended" a mouse.
The owner of the black cat told The Dodo, "I decided to record it. I thought no one would believe me."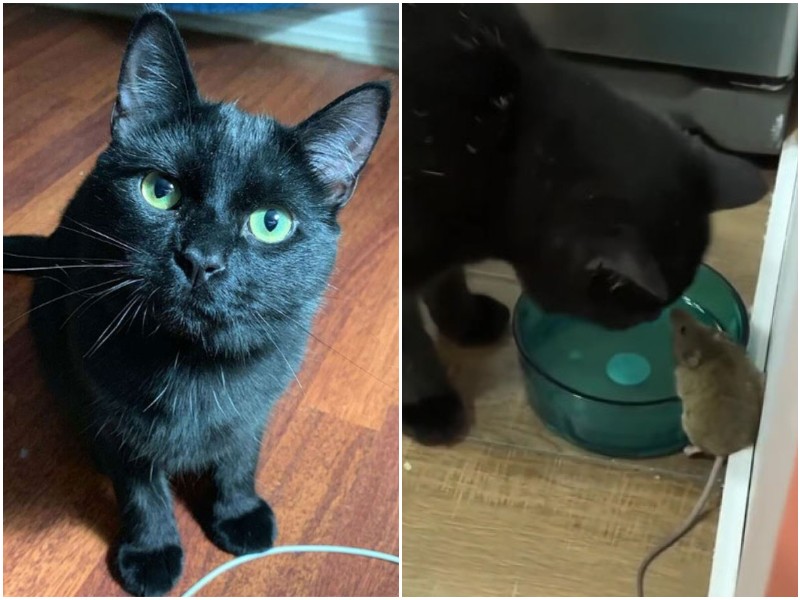 The guy said that not so long ago he noticed that there was a mouse in the kitchen of his house.
He expected his cat to destroy the unwanted guest, but instead, Simon decided to make friends with the mouse.
The owner said that they still "socialize" with the mouse when it periodically goes out to wander around the kitchen. Although the situation is funny and absurd, Benjamin is glad his kitty is so friendly and peaceful.
Benjamin told The Dodo, "He's been back several times. "We love that Simon accepts him. He's a very affectionate and sociable cat. If Chefcito keeps coming, we're going to have to adopt him."
Simon was interested in his new friend, and he wasn't going to chase him away, much less eat him. He lightly touched the mouse with his paw, and that was the end of it.