5 Month Old Kitten Has Rare Condition that Gives Him Unique Look, and So Happy to Be Adored
September 18, 2022
69

3 minutes read
This 5-month-old kitten was picked up on a street in Salem, USA. It was hard to tell from his appearance that he was only 5 months old. His sagging skin made him look like an older cat. However, this kitty turned out to be special.
He was brought to the Odd Cat Sanctuary. Despite all the difficulties, he was very happy to see people and was immensely grateful. The cat, named Teddy, purred loudly at the sight of people and settled down in the arms of a volunteer.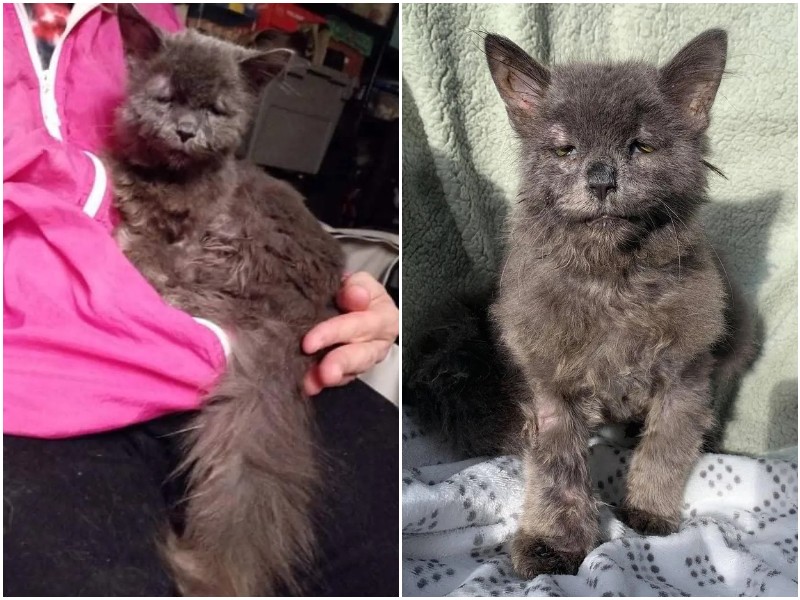 "She knew he was special, and reached out and asked us to take him on. We agreed," Tara, whose rescue specializes in cats and kittens with special needs, told Love Meow.
It turned out that Teddy's peculiarity was congenital. He was diagnosed with Ehlers-Danlos syndrome, a genetic condition characterized by collagen deficiency that affects skin elasticity. Otherwise, Teddy can live like an ordinary cat, but he needs special care.
"His skin is paper thin and can tear with no warning. He needs lots of special care for him, and we are ready to get him healthy," Tara shared with Love Meow.
Right now, the shelter team is caring for him with great sensitivity. He has already been sent to a holding facility, where he is being cared for and helped to cope with his peculiarities. Teddy is a very sweet, kind and grateful creature.
"We plan to put nail caps on his nails and keep a sweater on him (to prevent tears). He has started a collagen supplement, and he is en route to recovery," Tara told Love Meow.

A little later, when he has recovered a little more, they will look for permanent owners for him. The staff will be looking for people who are willing to love this special little guy with all their hearts. Be happy, Teddy!
"He loves to play, snuggle, and he loves his food. He has the best spirit through it all, and is so happy, thankful and purring nonstop," Tara shared with Love Meow.